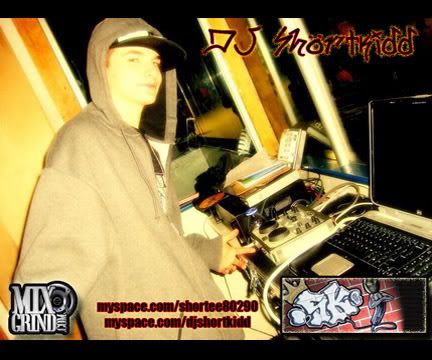 Me and the homie DJ Shortkidd chopped it up for a bit Sunday Conversation style and here's how it went down!
What's good Shortkidd?? nice to have yo here, first of tell us where you're from
Shortkidd: My Pleasure man, Im was born in the Bronx NY, moved upstate NY when i was still young, to a no name town called Brewster LOL. but i recently moved down to New Rochelle so i can Attend The Institute of Audio Research an Audio Engineering School in Manhattan.
What got you into djing?
Shortkidd: I was always curious when it came to the "1's n 2's" and how some of my biggest influences were so good at Scratching, Blending, Mixing etc. After learning some key things about music, i decided to give it a wing and well....here i am locally known as DJ Shortkidd of [Mixgrind Ent].
You're an emcee too, what and who inspired you to rhyme?
Shortkidd: I think after watching 8mile every white kid on the block wanted to give a shot at rapping, me being a corny little 7th grader at the time i really enjoyed listening to some Mainstream hip-hop, I tried spitting, and thought i was nice, bought some audio equipment became affiliated with some local artists and started Hitting the books, and by that i mean Studying Hip-hop from the roots up!, my biggest influences i would have to say is my older brother KuRRent, Ke$e Soprano and My friends who have supported my music throughout the years.
Tell us what else you do
is there anything you don't do??
Shortkidd: Haha thats a funny question, see it started out i wanted to Rap, then i learned to DJ, finally got enough money to afford Pro-tools, I guess the only thing i haven't tried yet is Producing, but ill be sure to conquer that very shortly! so Dr. Dre and Swiss better watch out! haha.
List your recent projects.
Shortkidd: My recent project that i am working on now i would have to say is Putting The Game on Life Support with my man Ke$e Soprano! and 2X Justo Award Nominee DJ Me$$iah. BE ON THE LOOK-OUT FOR THIS TAPE! its all around perfect, from production to lyricism!, every track is a banger in my opinion and quite frankly i haven't heard a mixtape like that in a minute!

How's you're brother Kurrent?
Shortkidd: KuRRent's doing just fine, right now he's taking some time off from rapping to concentrate on work, until his budget is up to par. than its back in studio mode for him, we should expect a mixtape out from him January 09'. So keep your ears open for that!
Any new things musically going on with him?
Shortkidd: Like I said he's taking some time off, but of course he's still writing and getting ready to bang out tracks for this tape when he has some free time, right now he's just had a busy schedule.

Do you dj at clubs, parties?
Shortkidd: I've been working the same gig for 2 years now at an Ice Rink over in Brewster, sounds lame but for 30$ h/r it works LOL. i also DJ on some featured nights at my grandfathers strip club in the bronx (Crazy Horse Cabaret). Parties when the opportunity comes, but I'm mostly just mixin' it up from home.
What are your plans for the future?

Shortkidd: I Would like to finnish school at IAR and gain enough knowledge to open up my own studio. Maybe start my own label with Ke$e and KuRRent but there are so many opportunities around in the industry I'll be happy just to get my foot in a local studio that pays well.

Thanks for your time homie! anything you want to say to the people?

Shortkidd: Just like to thank you for Interviewing me, Shout outs to DJ Me$$iah, Ke$e Soprano, KuRRent, Mixgrind.com, and make sure u buy Putting The Game on Life Support! coming REAL SOON!